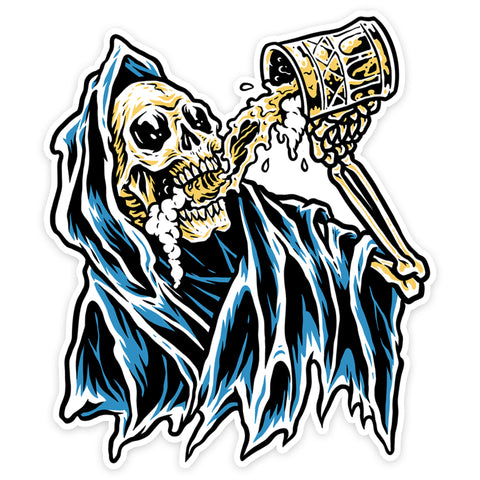 Beer Reaper Mini Decal / Sticker
Pickup currently unavailable
Product Number:  RC00268
Beer Reaper Mini Decal / Sticker
Beautify your life with a beer-chugging grim reaper decal from Down N' Out. This funny sticker is perfect for a wide variety of decoration applications, such as enhancing "Live, Laugh, Love" signs, guest bedrooms, wine racks, the exact middle of TV screens or computer monitors, or the back of Uncle Dave's bald head.
Maybe that's bad advice. Do none of those things. But just look at the badass art of this grim reaper decal. This dope illustration decal is a good fit for:
Laptop owners.
Beer lovers.
Skaters of legal drinking age.
Bikers who wear helmets.
People who own objects with flat surfaces.
Skeleton lovers.
Death lovers.
People who do not care about scientific accuracy. (We don't CARE that he doesn't have an actual stomach.)
This reaper decal is one of many funny stickers we carry at Down N' Out. Browse our selection, pick up a few, and make your stuff cooler to look at.
Size: 3.5 inches by 2 inches